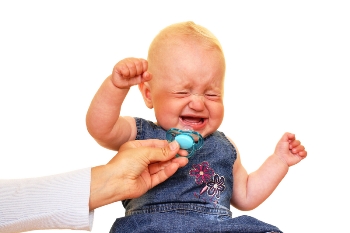 Try using Calc phos (Calcarea phosphorica, cell salt #2) for baby's teething relief. This is the main ingredient in most homeopathic teething tablets. The Calc phos can be supplemented with Chamomilla, Coffea cruda and belladonna.
Comments
on June 30, 2011 at 10:24 AM said:

I love peppermint oil for teething ailments-- as long as you give some water or food immediately after.

on June 8, 2012 at 3:33 PM said:

Probably the number one remedy used by many mothers and fathers around the world is Hyland's Teething Tablets, which are very effective to ease the pain of baby teething.

on June 8, 2012 at 3:38 PM said:

Here are some ideas from Vanessa Grassi on treating a toothache at any age using natural remedies. To see the entire article go to the link above. 8 Soothing Home Remedies for Toothaches 1.Swish Some Whiskey or Bourbon 2.Try Vanilla Extract 3.Apply Clove Oil 4.Rinse with Saltwater 5.Ice Applications 6.Chewing Raw Onions 7.Elevate You Head 8.Dab With Ginger Root

on September 10, 2012 at 4:26 AM said:

Useful in the overgrown, poorly developed child, with very painful dentition. There is very rapid decay of the teeth. The child sleeps poorly, and there is offensive diarrhœa, dark brown or bloody in color.

on September 10, 2012 at 10:38 AM said:

Sorry for your bad experience with Hylands Teething Tablets. Many people use and love the product.

on January 11, 2013 at 11:33 AM said:

Hylands teething tablets are still one of the most popular teething remedies in the world! We still ship to our valued customers in Australia and Canada (two popular locations for us to ship Hyland's Teething Tablets).

on April 10, 2019 at 9:47 PM said:

GENERATE UNLIMITED B2B LEADS WITH YELLOW PAGES DATA EXTRACTION SOFTWARE https://wowitloveithaveit.com/products/yellow-pages-scraper-and-extractor-software-for-usa-uk

on January 13, 2023 at 8:23 PM said:

I think what you published was very reasonable. But, what about this? what if you were to write a awesome post title? I mean, I don't want to tell you how to run your blog, however suppose you added something to maybe get people's attention? I mean Baby Teething is kinda boring. You might glance at Yahoo's front page and note how they create article headlines to grab people interested. You might add a video or a pic or two to get readers excited about everything've got to say. Just my opinion, it could make your posts a little livelier.